Any Kind of Love Is Alright
XTC was indeed riding high following the both-sides-of-the-Pond success of February 1989's psychedelically fulfilling Oranges & Lemons, but far be it from Andy Partridge, Colin Moulding, and David Gregory to even think of doing the same thing twice. Hence, it took three incubating years before April 1992's Nonsuch appeared before our ears—but it was undoubtedly (and indubitably) worth the interim. Nonsuch is, arguably, the perfect nexus-intersectivity point of the British band's broad-stroke aural ambitions—17 tracks and 63-plus minutes that needed, if not required, uninterrupted listening sessions to absorb all of its orchestral-leaning alt/art-pop intentions.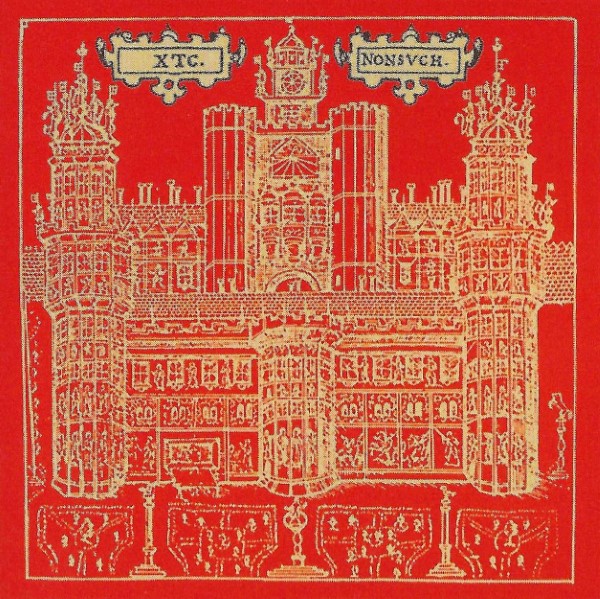 1992 Geffen-Virgin CD cover
Since Nonsuch came out during the height of the physical digital media era, I began listening to it on the standard 1992 Geffen/Virgin CD. The remastered 2001 Virgin CD, in which the band had no involvement, is frankly not worth much discussion. The fact that the back cover artwork was egregiously misaligned, misprinted, and visually marred tells you everything that you need to know.
Seeking out the 1992 Virgin double-LP import wasn't even on my radar at the time—something I momentarily regretted later on once it became more difficult and more expensive to obtain. If you're a tried-and-true completist and still want that original 2LP set, well, good luck. And, sure, a 1992 Geffen/Virgin Dolby HX Pro cassette is also out there if you're a "must have all" kinda person—though I must emphatically point out that tape should be viewed only as a collectible and certainly not deployed for listening enjoyment, critical or otherwise.
All that said, once Partridge was eventually able to license, curate, and properly begin reissuing the XTC catalog under his own custom Ape House banner—albeit at a molasses-drip pace—the 2020 200-gram 2LP gatefold version of Nonsuch, with the lacquers newly cut by Jasdaface (a.k.a. Jason Mitchell) at Loud Mastering using masters duly Partridge-approved, has given me levels of listening pleasure I hadn't experienced digitally in stereo. The '80s-esque lilt, harmonies, and right-channel guitar interweaving on "The Disappointed" (Side 2, Track 1)—a.k.a. "Level Tears For 42 Fears"—as well as the flugelhorn, trumpet, and cello accents on "Rook" (Side 2, Track 4) all had deeper resonance with me on high-grade vinyl than they ever had on CD.
Prior to that remastered 2LP set's appearance, Partridge had long-embraced having XTC albums mixed in surround sound by 5.1 guru Steven Wilson. Some years ago, Wilson told me Nonsuch was well atop his 5.1-mixing wishlist (this being in the pre-Atmos era), and the ensuing 2013 Ape House 24-bit/96kHz LPCM/DTS-HD, 5.1 results on Blu-ray, are absolutely marvelous. Yes, there's a comparable CD/DVD edition, but why bother?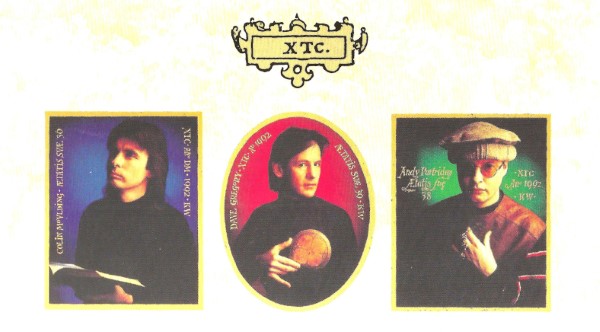 2013 Ape House CD-BD bandmembers
As much as I love dropping the needle on the Side 1 opener, "The Ballad of Peter Pumpkinhead" (cue that initial battle cry, "Let's begin!"), Wilson's 5.1 mix gives it even more gleeful breadth. To wit: Dave Mattacks' ever-so-brief pause before he emphatically re-hits the kit with gusto when each chorus commences, the left-channel guitar jangle being countered by rhythmic strumming over on the right, Partridge's punchier growl on words like "raise" and "slur," and the pair of accentuated rear-left-channel whoops of "Hooray!"—not to mention the overall piano-note clarity and rear-channeled Clapton-like guitar-solo tradeoffs in "Books Are Burning"—are all testaments to an album opening up in ways it can't quite do in stereo, even though all the building blocks are there in the original album's Gus Dudgeon/Nick Davis mixes. (I should also note the CD/BD and CD/DVD sets also include a score of extras, including in-studio making-of video content, 18 instrumental tracks, 23 Partridge home demos, and eight Moulding work tapes.)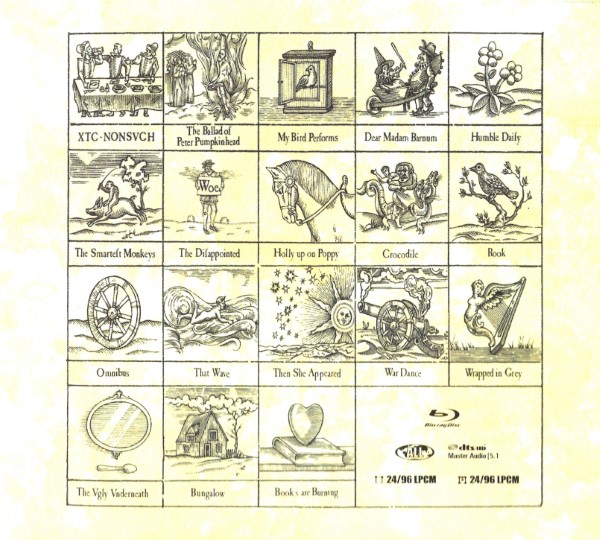 2013 Ape House CD-BD tracklisting
"Andy Partridge was very, very skeptical of surround sound," Wilson admitted to me. "But when I was able to get him to visit my studio and hear the music in surround, by the end of the day, he was jumping up and down, going, 'We've got to do the whole catalog!'" (I'm now trying to picture Partridge doing the latter quite literally and not figuratively, but I digress.) "Steven Wilson—he's just got a great ear," Partridge readily concurred. "He's so intuitive. His mixes bring the music more into focus by giving it the weight it needs and giving it three-dimensionality, if such a word exists—well, it does now—to where you can really go inside the track. The stereo mixes don't have so much of that character going for them—but Steven Wilson's surround mixes do. He's just got the touch."
Thirty years on, Nonsuch is as fresh as anything you'll cue up in stereo and/or surround/Atmos in the new year. Hooray for Andy Partridge, and hooray for all those XTC heads out there too. You'll soon enough find why people come to appreciate Nonsuch so much is because XTC knows the score.