PRICE $1.972 (as tested)
AT A GLANCE

Plus

Superb sonic quality, savory bass, audiophile-grade imaging
Dirac Live room correction
Streaming (and multiroom expandability)
NAD's BluOS ecosystem and Bluesound iOS/Android apps
Front-panel meters are retro-licious
Minus

Full-bandwidth Dirac requires paid upgrade
Only one analog line input
No pass-thru for multichannel
THE VERDICT

A "simple" stereo integrated that commemorates NAD's original designs but conceals considerable technological depths, including Dirac Live room correction, wired/wireless networking with app-directed streaming, and Class D power.
I love vintage. Of my four motorcycles, which included a beloved 1958 Triumph T20 Tiger Cub, the 1989 Honda NT650 is the newest. Of my dozen or so guitars, my 1964 Strat and 1966 D-18 are the undisputed stars, while a 1965 Fender Deluxe Reverb guitar amp is the apple of my ear. I'll never part with any of these; just pile them upon my bier when the time comes. But vintage hi-fi? Vintage hi-fi?
I lived vintage hi-fi, and it wasn't all rainbows and ponies. I loved my heavily modified Dynaco Stereo 70 tube power amps (a pair, bridged), but they were finicky as hell, consumed kilowatt/hours like Charles Bukowski at an open bar, and heated my third-floor walkup to heroically Finnish levels. My Thorens TD-125/Rabco setup was stone-cold S.O.T.A. when you got all the geometry dialed in just so, which happened two and even three times per year.
So, vintage audio—not so much. But modern, vintage-look gear is another story, one that is indeed fast becoming, as they say, a thing. For just two examples, the rebirth of KLH features a '70s throwback-look reimagining of the iconic Model 3, and Canadian stalwart PSB is doing the same dance with a visually authentic but thoroughly modernly re-engineered version of its original design.
NAD, another Canadian and indeed a corporate stablemate to PSB, is now doing the vintage, with a Limited Edition C 3050 LE streaming integrated amplifier. Visually, the C 3050 LE, is not shy about its "vintage" vibe: a deep black front panel with gold graphics in flowing script proudly re-states the "New Audio Dimension" label, a moniker that dates from the firm's birth in 1972 but was abandoned relatively soon thereafter.
Softly yellow-lit VU meters and an old-timey eight-LED volume-indicator strip, along with five analog knobs (remember those?) including, yes, bass and treble tone controls, complete the nostalgia trip.
But it's not all yesteryear. The C 3050 LE incorporates high-zoot D/A conversion courtesy of Texas Instruments' latest differential-layout chipset, and on-board streaming by way of NAD's BluOS streaming/multiroom ecosystem. It also has Hypex UcD Class D power-amp modules and Swedish company Dirac's low-frequency-only Dirac Live room correction built in. (A license upgrade to full-range D.L. costs $99 via Dirac's website.) On the back panel, you'll find a fairly complete set of digital inputs, including an eARC HDMI jack and an Ethernet port for wired networking for those who prefer not to use Wi-Fi, as well as a moving-magnet-level phono input but only a single line-level analog input.
Setup & Listening

I hefted the NAD amp onto my equipment rack, where it looked right at home and, well, pretty unprepossessing. The C 3050 LE is decidedly 1970s-square, with sharp edges on the low-gloss walnut case and plain knobs and a few pushbuttons as the only controls. However, it's those meters that dominate the amp's face, and when you power it up, whoa! These initially light up in a surprising salmon color, changing to soft yellow when the amp is ready to rock, about five seconds later. (All told, it takes the NAD integrated amp a good 25 seconds to play music from a cold start.)
In the BluOS app, you can adjust the crossover point by going to "Settings" and then selecting "Audio". The crossover point can be adjusted in increments of 10Hz, ranging from 40Hz to 200Hz. If you have Dirac applied, the distance, level, and phase will all be automatically set. The only thing you need to do is to adjust the crossover frequency to match your main/sub speaker system and set the subwoofer level to roughly the correct level to match the main speakers. Dirac is highly effective in matching main speakers with subwoofers, typically surpassing any setting that can be adjusted on the sub. NAD recommends using the sub's LFE input, as subwoofers with DSP often have additional latency, which can impede Dirac's performance.
My first task was to run Dirac Live, which in the 3050 LE's iteration corrects response below 500 Hz only. I won't recount this in detail—D.L. has been much covered here before—only pausing to note that, as I've found in other implementations, the Dirac process is quite fussy about levels, which you must fine-tune manually before the procedure starts in earnest. In the NAD's implementation, it "builds in" a good dose of headroom, so when you engage Dirac, the overall level drops by 6 dB or more. In my system, this impeded very-high-volume listening (no great loss, for me) and made direct A/B comparisons of Dirac/uncorrected playback unwieldy.
That said, Dirac correctly measured my two most prominent room modes and compensated for them with appropriate filters, yielding the usual result: tighter, more pitch-precise bass, and greater low-midrange focus. As always, to level the playing field with past and future subjects, I did the bulk of my listening with Dirac disengaged.
Initially, I simply connected the 3050 LE to my long-term 3-way stand-mount monitors, direct, no subwoofers. These medium-low sensitivity speakers extend solidly to 30 Hz or so in-room, making a fair test for any amplifier. Most of my listening was streamed hi-res content from Qobuz or Tidal, using either NAD's own BluOS app or Roon as the "front end."
To bury, as they say, the lede: NAD's throwback amp sounded musically superb in every regard. The presentation was punchy, dynamic, and transparent, yet unfailingly warm and girthy low down, with ample grunt to play any musical genre at any level I would ask in real life. I streamed a performance of Ernest Bloch's "Suite for Viola and Orchestra" (Qobuz, Harmonia Mundi/BBC Symphony)—a work I was wholly unfamiliar with—and wound up listening straight through, mesmerized by violist Timothy Ridout's resonant, woody tonalities and by Bloch's characteristically colorful writing and orchestration, skillfully painted by the NAD against deep black silences.
Spinning up 2015's Crush from Boston-via-Berklee great funk band Lettuce, I got an even more impressive dose of dynamic range, with the convincingly in-room, un-prettified drum sound, etched horn lines, and slicing guitar riffs of tracks like "Get Greasy." This is music that sounds better the louder you play it, and the C 3050 LE obliged, highlighting what I've long thought of as a classic NAD characteristic: loving the bass, for color, definition, weight, slam—all of it.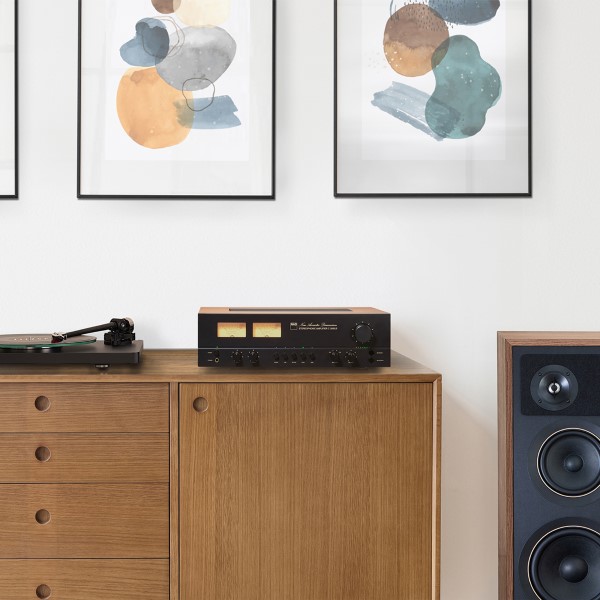 NAD rates the C 3050 LE as producing 100 watts per channel full-range, into either 4Ω or 8Ω loads, and I have no reason to doubt them. (To the firm's credit, their specifications are considerably more complete, technically correct, and full-disclosure than many brands' today.) The amp produced all the clean output levels I would ever ask for my own listening pleasure with no sign of stress or strain, and my speakers are a good 3 dB (or more) less sensitive than typical larger stand-mounts or towers. The combo simply sounded great, soup to nuts.