PRICE $4,000/pair
AT A GLANCE

Plus

Excellent soundstage and imaging
Powerful and adjustable bass output
Disappears when the lights are out
Integrated Atmos module support
Minus

Each speaker requires a power outlet
Cloth grille is not removable
Can't be placed up against a wall
THE VERDICT

The Verdict: A tall, powerful speaker that dazzles with its superb soundstage and imaging, delights with its visceral bass output, and stuns with its starkly minimalist aesthetic.
The new Dymension DM70 Tower speaker is an evolution of a design that's signature Definitive Technology. It's an adjustable bipolar arrangement with two arrays (front an rear) with dual 5.25-inch mid/bass drivers and a one-inch aluminum-dome tweeter on each side, combined with an adjustable 10-inch powered subwoofer (augmented by dual 10-inch passive radiators) that has a 250 W (peak) power amp and is seamlessly integrated into the tower.
With its bipolar design, it is not your typical 2-way or 3-way cone-and-dome tower speaker. The DM70 has a distinct character that's larger than life, if you love three-dimensional imaging then you have to give them a listen. And with its adjustable bipolar array and subwoofer, the DM70 provides more tuning options than most tower speakers.
The Dymension Series has replaced Definitive Technology's previous bipole speaker line, the BP90XX Series. While the two series share an overall design, there are notable differences beyond aesthetics. The DM70 model is just under the new DM80 flagship in the series but is the same size and weighs more than the previous flagship, the BP9080, which had an integrated Atmos height speaker. Instead, the DM70 and DM80 are designed to accept a modular Atmos topper, the DM90, which costs $1,000 per pair. This review focuses on what a pair of DM70s has to offer, but the Dymension Series includes center channel, bookshelf, and satellite/surround speaker options.
Features and Setup

The Dymension DM70's specifications feature true frequency response figures: –10dB (25 Hz – 30 kHz) and –3dB (30 Hz – 23 kHz). This departure from Definitive Technology's previous "total frequency response" enables direct comparisons with other brands advertising accurate specs. The DM70 delivers deep sound effortlessly due to its built-in subwoofer, while the integrated amplification reduces strain on your amp or AVR. However, connecting each speaker requires both a cable to the amp and a power outlet.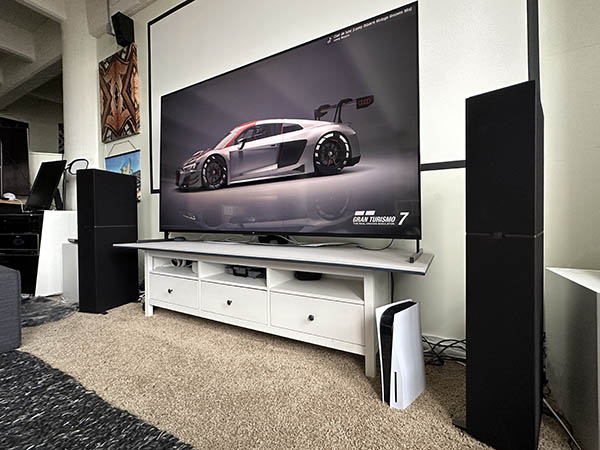 Setup is not quite as simple as with a typical tower speaker. For one, the bipolar array demands a bit more consideration in terms of placement. And then there's the matter of tuning how much signal to send to the rear-facing array—full bipolar or forward focused, with the latter reducing rear output by –6dB. Additionally, the rear panel's "Intelligent Bass Control" allows for fine-tuning of bass output.
This flexibility in configuration and the bipole capability is especially interesting for 2-channel music applications and systems that don't have built in EQ or bass management. You can both tweak the size of the soundstage and dial in the bass to taste. But beyond music, these speakers also have a lot going for them when used home theater applications. Consider a 5.1 system with four DM70 towers. Having a multiple speakers with built-in subs, even if each one is technically not optimally located, has distinct advantages in terms of evening out the in-room bass response.
These speakers are particularly home theater-friendly thanks to their all-black design. Even the Atmos module option maintains the clean look, with dedicated terminals on the rear of the tower and hidden connectors on top of the tower.
Just know that the black cloth covering the speaker is not mean to be removable. And if you have a cat, understand that to feline eyes these speakers look like giant scratching posts.
I powered the speakers with a Crestron ProAmp 7×250 amplifier, utilizing two of its seven channels. With 450 W per channel at 4 ohms and 0.01% THD, the amplifier exceeds the DM70's capacity of up to 300 W at 4 ohms. My source, a fanless HDMI stick PC, runs Roon and Tidal for streaming, with CD rips and bandcamp.com downloads supplementing the library. A Denon AVR-X8500H serves as the DAC/preamp.
Performance

The Dymension DM70 speakers are very good. They make music sound like music. They make voices sound like voices. They make everything sound like it is happening right in front of you! Okay, that was actually not so tough. And it is true, their most obvious quality is stereo imaging that's transcendental in nature. The soundstage is vast and enveloping, and the imaging is so accurate that it is as if the performers are right there in the room with you. I know that's a cliché, but it's also how it really sounds!
Then again, for $4,000 per pair, you had better get good sound. Great sound. Clearly superior sound! Which, I believe these speakers deliver in spades, but you really have to want what they offer both aesthetically and in terms of presentation. Boasting grand, energetic sound, the speakers excel with electronic music, creating 2-channel soundfields comparable to spatial audio systems without additional processing. They also perform well with rock and related genres featuring distortion and reverb, from classics like The Beatles and Pink Floyd to '90s favorites such as The Pixies and Ministry.
I have enjoyed rap and hip-hop since fifth grade, delivering newspapers on my Huffy bike while listening to my Panasonic "Walkman" and dreaming of better headphones from Radio Shack. At the time, artists like Beastie Boys, Run-DMC, and The Fat Boys dominated the scene. Soon after, the genre evolved with LL Cool J, Eric B and Rakim, De La Soul, Public Enemy, and KRS-One. As production value improved, I recognized the need to appreciate bass fully, which led me to incorporate subwoofers in my listening experience. But with the DM70s, I can play all my favorite classic rap albums and the bass is spot-on with just a 2.0 system.
DM70 speakers are also very powerful, surely a result of the fact each tower is essentially two complete high-power bookshelf speaker systems, placed back-to-back, resting on top of a 10-inch subwoofer. That's equivalent to a full-on 2.1 system packed into each cabinet.
If you don't sit centered between the speakers, the sound is still fantastic. You lose the holographic imaging, but I noticed that the off-axis tonality of these speakers is extremely consistent, which I attribute to the bipolar design, which more evenly distributes the directional high frequencies throughout the room, to match the more omnidirectional bass. You don't get that "dulling" effect you hear when you stand off to the side of a regular speaker, the sound is crisp and consistent wherever you are.
While I only auditioned these speakers at home in a 2-channel context, it is clear they are equally adept at handling home theater, gaming, and other AV applications (Atmos integration is the big hint!). I have heard the DM70s in a home theater context during demos put on by the company and have heard them "ace" the canyon test run scene from Top Gun: Maverick. The grand nature of the speakers' soundstaging puts you in a hyper-real bubble of sound that has the energy and precision of a high-end commercial theater.
I'd rather not pass judgment on whether the bipolar effect is better at full strength or with the –6 dB switch engaged. My guess is it's a matter of taste combined with the room interactions of any given installation. The main thing is that it's there, and I personally gravitated to the –6 dB setting because I felt it offers a totally lucid improvement in soundstage three-dimensionality while maintaining pinpoint precision. By comparison, the full-on bipolar effect is a bit hyperbolic.
Now, just because the speaker has a built-in 10-inch subwoofer (with output augmented by passive radiators) does not mean you would not add a dedicated subwoofer or two. What it does mean is that you should find a sub that does most of its good work really deep, with a focus on frequencies below 30 Hz. That's because these speakers are rock solid down to 30 Hz, but they have nothing to offer in terms of infrasonics (frequencies below 20 Hz). For a lot of music that's fine, especially given the option to tweak the bass output. But for some music genres as well as movies "there's no replacement for displacement" when you want a system that can make you feel a 16 Hz note. And for that, you'll want to add a large and powerful sub or two. The upshot is the DM70s act like additional subs in the system, helping to smooth out peaks and dips in the most troublesome frequencies.
Conclusion

The Dymension DM70 is a big, bold speaker that's a refinement of Definitive Technology's bipole speaker designs. You won't mistake it for another speaker, that's for sure. At $4,000 for a pair, the DM70 is a sizable investment, but you get a lot of speaker for the money. The main question is if the bipole sound is right for you. I find it very appealing in moderation (using the –6 dB mode) and a lot of my favorite albums have an extra bit of sparkle and energy to them when playing through these towers.
One thing I can say for sure is that even though the DM70 has many qualities that are home theater-friendly, they are an exciting choice for 2-channel. There have got to be other audio enthusiasts such as myself who appreciate the stark, minimalist aesthetic of the all-black cabinet and the focus on enveloping you in high-fidelity stereo sound.