LG made a splash this morning with its pre-show announcement of a stunning 97-inch OLED TV. As beautiful and minimalist as the display is, connectivity is the story here. Instead of delivering audio and video via HDMI, the TV includes the Zero Connect wireless transmitter that sends audio and video to the TV wirelessly in real-time at up to 4K 120Hz.
Pricing and availability was not announced, though LG says the TV will deliver in 2023.
Unlike a conventional TV, the svelte M3 TV is devoid of physical connections. Instead, multiple HDMI ports are located on the Zero Connect box, which can also connect wirelessly with compatible soundbars, eliminating tangled cables at the TV. To ensure the seamless transfer of data from the box to the TV, the company developed an algorithm that instantly identifies the optimal transmission path to minimize transmission errors or disruptions; the algorithm even recognizes changes in the immediate environment — such as people or pets moving around the room — and switches paths accordingly.
LG wouldn't say what frequency the wireless operates on but claims it is three times the bandwidth of Wi-Fi 6. To further maximize signal strength, the box's antenna can be rotated and tilted to align with the TV.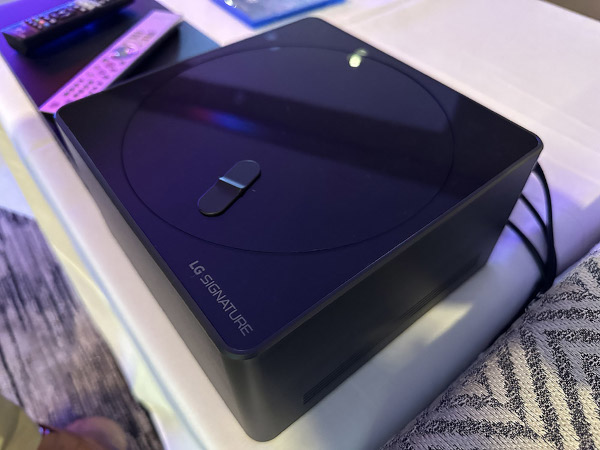 Sweetening the deal, the Zero Connect box responds to simple spoken commands to turn the set on and off and manage connected devices. The TV boasts LG's One Wall Design featuring an integrated bracket that allows the display to sit flush against the wall with no visible gap wall, giving it an art gallery aesthetic.