Performance
Features
Ergonomics
Value
PRICE A50+ $199, S50+ Pro $219
AT A GLANCE

Plus
A50+

Multiple music sources include streaming music services
Multiroom streaming or stream separately
EQ adjustment buttons on remote
Presets to favorite playlists from a variety of services
Stream legacy devices like turntables or CD players
S50+ Pro
Pairable with A50+ for synchronized listening throughout the home
Optical input and output
Decodes high-resolution audio
Remote control with EQ direct buttons
Presets to switch to favorite playlists
Stream legacy devices like turntables or CD players
Minus
The 4STREAM app is confusing and incomplete
Can't create a play queue
Amazon Music has bugs( doesn't play when switching from another app)
Output is compressed CD quality, not high-resolution audio
Doesn't have AirPlay2
Doesn't work with Alexa, Google, directly with Siri
THE VERDICT

The Arylic A50+ wireless multiroom full digital hi-fi amplifier and the S50+ Pro wireless streaming preamplifier are reasonably priced streaming solutions for specific needs. These aren't devices for the average user looking for a whole home music system. Instead, the Acrylic amp and preamp are better suited for DIYers or users who are comfortable piecing together a system.
Arylic's A50+ and S50+ are small music streamers that work with most music sources: built-in apps like Pandora, Deezer, Tidal, and Qobuz, radio apps like iHeartRadio and TuneIn, Bluetooth from devices or computers, AirPlay from Macs, iPhones, and iPads, or music from your library on a Network Attached Storage (NAS) drive. Both devices have an RCA input to connect a turntable, cassette deck, or other analog device and an optical input for other digital audio.
Use the preamp together with the A50+ amplifier to boost its power, play to each device from separate sources, or sync and play both in different rooms.
Uses For the Arylic Amp or Preamp
• You have good passive speakers and a room (or rooms) where you want music.
• You have a legacy device—turntable, CD player, cassette deck—that you want to stream throughout the house.
• Switching quickly between your favorite playlists.
• Your amp or receiver with speakers doesn't have streaming services, Bluetooth, or AirPlay.
Ports
Beyond the built-in streaming apps and antennas for wireless Bluetooth and WiFi connections, Arylic makes the most of its small real estate with several ports.
The S50 Pro preamp has RCA ins to connect a turntable or other analog device. A DVD/CD player can connect to the optical input. And the optical output can connect to an amplifier, AV receiver, and speakers. The USB port accommodates a thumb drive with music. The LAN connection is useful to connect to a NAS drive or if Wi-Fi isn't reliable.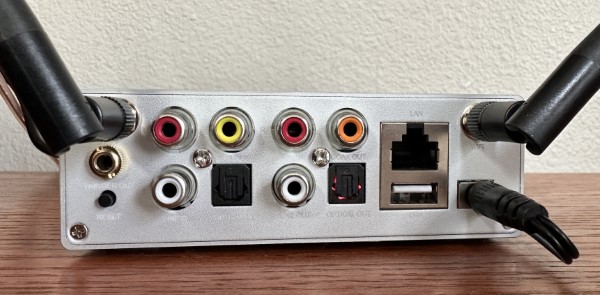 The A50 amp has the same inputs as the S50, with a micro-USB to connect directly to a computer or other music source. A phoenix speaker connector is provided to hook up speakers. It works by inserting speaker wire or small pin connectors into the tiny holes and tightening the screws. There needs to be an indication of where to place each wire on the adapter. Instead, I had to look at the phoenix port on the amp.
Set-Up
After downloading the 4STREAM app, pairing the preamp with the app was pretty easy. The app controls the amp and preamp. The 4STREAM app allows you to choose a source and manage where to play the music. Some apps, like Pandora and Amazon Music, require a login, and Spotify Connect works from the Spotify mobile app.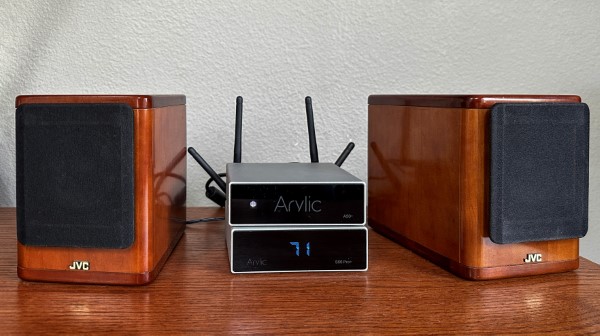 It's easy to link two or more units for a multiroom experience. Click the link icon in the upper right corner of the device's listing and click on the units to create a group. Click the link icon again and uncheck devices to play individually or remove them from the group.
Control
The included remote control is an alternative to controlling the Arylic amp and preamp with 4STREAM. Switch between sources with direct buttons for USB, Aux(illary) In, Opt(ical), WiFi, and BT (Bluetooth). Volume and playback controls are located on the navigation wheel. Rather than go to the equalizer in the app, you can press direct buttons to boost and trim bass and treble or choose a flat sound. The deep bass button creates a good rumble. You have to go into the app to see the EQ settings, but you can adjust them to your liking on the fly.
Tapping the three dots on the play screen in Pandora, Spotify, or other streaming services, displays the option to add the playlist to one of ten presets. This makes for fast switching between your favorite playlists from any service by pressing the remote button or choosing from the preset content in the app.
The app's search function can find songs, playlists, artists, etc., from playlists on all services. It comes in handy when you are in the mood for Crosby Stills and Nash but aren't sure where to play it.
The 4STREAM App
4STREAM had problems loading menu pages. Switching screens in the app yielded a spinning buffer wheel at times for longer than a minute. Also, it wasn't clear how to navigate or change settings.
Also, when switching between streaming apps, it would indicate that a new playlist was playing. Still, the music didn't change, and it continued to play music from the previous service. For example, I was playing my Happiness Mix on Pandora, then switched to Amazon Music and chose the Best of George Winston. While the app showed that George Winston was currently playing the music, I was still listening to the Temptations from Pandora.
Typically I will offer a pass on software bugs that I'm sure will be fixed in a future update, but the 4STREAM app is poorly designed. On some services, it doesn't indicate what song is playing, and you can't create playlists from single tracks. Some apps allow adding playlists to a preset, while others don't.
The A50+ amp is perfect for a bedroom. Along with its small size, it can act as an alarm clock waking you with a specific playlist, and it has a sleep timer function to turn itself off.
Performance
Both devices can decode high-resolution 24-bit/192KHz audio. Still, audio quality is limited on the amp and preamp. They output "CD-like" quality of 16-bit/44.1KHz. It isn't full "CD quality" as it is more compressed and a far cry from high-resolution music output.
Instead, audio performance heavily depends on the quality of the speakers connected to the amp or the sound system attached to the preamp. A good pair of full-range speakers can bring out nuances in the music despite its lack of high resolution.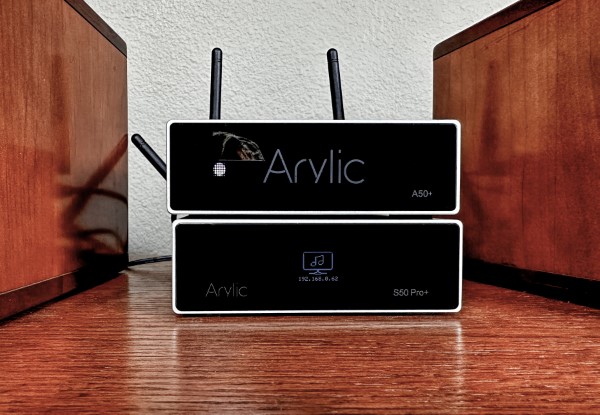 When testing, the music dropped and cut out frequently. When the preamp and amp were paired, I used AirPlay to stream Apple Music from my Mac or iPhone to both devices, and the dropouts happened every verse. When I unpaired the devices, AirPlay to the A50+ amp was pleasantly smooth and continuous.
Conclusion
If you have a use for the Arylic and its app limitations don't deter you, you'll be satisfied with its audio performance for its price. For a better user experience, consider Sonos for whole-house music. WiiM budget products also work with Chromecast and can be controlled with Alexa and Google. But if you want to use your own speakers or another scenario, the Arylic amp or preamp might fit your needs.